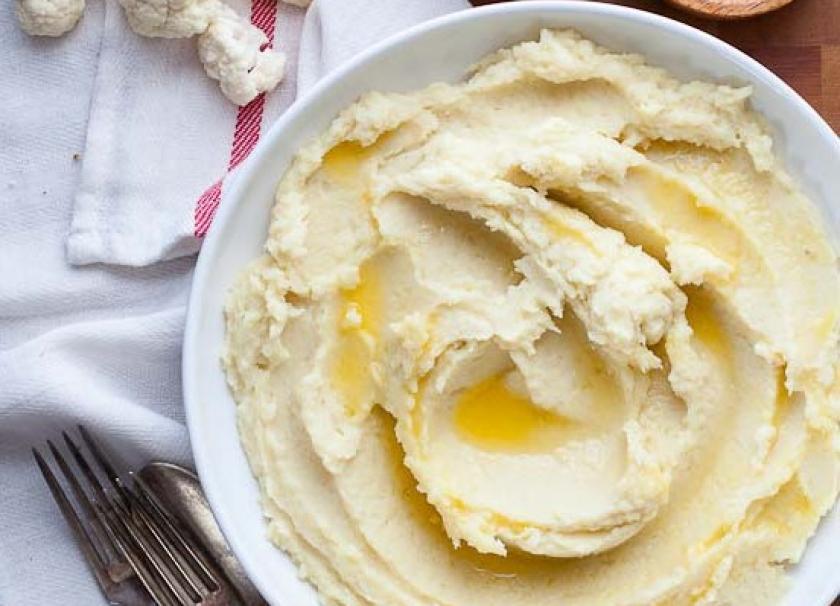 March 3rd, 2014
Cauliflower Celery Root Puree
I have discovered a new culinary JOY! Having recently embarked on the Whole30 challenge and eliminated all dairy, potatoes, sugar, grains, legumes, alcohol and all artificial everything from my diet, I have been experimenting more in my kitchen than usual. Wanting to replace mashed potatoes with something else for a special date night dinner, I came across a recipe for cauliflower puree and gave it a go. This recipe is so easy and versatile; you can add any spices to send it in whatever culinary direction you desire. I even added celery root, since I usually add it to my mashed potatoes, and like it even better this way. I have experimented with so many flavors and spices and it is always a success. Try adding to the base recipe below.
roasted garlic and thyme, curry and coconut milk, sour cream and chives,pesto, or come up with your own favorite combination. What I really like about this is that it has the texture of mashed potatoes without the heaviness. It is really light and creamy and satisfies any cravings for mashed potatoes that I may have. Be well and enjoy!
Cauliflower Celery Root Mash Serves 4
1 large head of cauliflower, broken into florets
1 medium celery root, peeled and cut into chunks
1T coconut, macadamia, avocado, olive OR hazelnut oil
Salt & pepper
Steam the cauliflower and celery root until soft.
Whirl in your food processor until it looks like mashed potatoes.
Season to your liking and enjoy!
Michelle, Deli Manager
More Co-op News