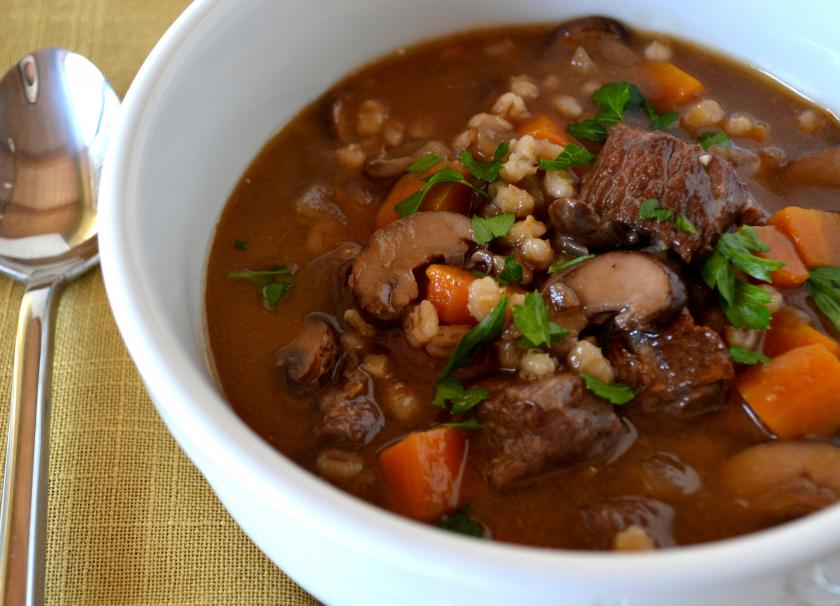 January 14th, 2014
Brownsville Beef and Barley soup
While visiting my family this fall in Brownsville, Oregon, we took a little trip to Randy's Main Street coffee shop that is housed in the old butcher's shop which incidentally was where I got my very first job, breaking down boxes for Mr. Ridinger. We ventured in on a cold day to find warm rolls fresh out of the oven and a Beef Barley soup of the day that smelled too good to miss. True to the smell, the soup was delicious and Geoffrey came home and immediately tried to recreate it. Since then we have had it a few times and there is something about the chunks of carrot and chewiness of the barley that really makes this soup a meal.
Geoffrey's Brownsville Beef and Barley soup
1 cup barley, dried
3 cups water
1 lb lean ground beef
1 T olive oil
1 onion, chopped
2 carrots, chunked
2 stalks celery, sliced thin
3 cloves garlic, crushed
2 qts beef broth
Chopped greens, your choice
Salt & pepper
Cook 1 cup barley in 3 cups of water on low for about 20 minutes or until done, set aside.
In a dutch oven or large soup pot brown the ground beef over medium heat, drain the fat and set aside.
Add 1T olive oil to your pan; add onion, celery and carrot and sauté until soft, when veggies are soft, stir in the garlic.
Add broth and simmer for 20 minutes.
Add the reserved beef, cooked barley and chopped greens, cook until greens are wilted about 5-10 minutes.
Season with salt and pepper and serve with crusty bread.
Michelle, Deli Manager
More Co-op News