June 27th, 2013
Beat the Heat with cooling Mint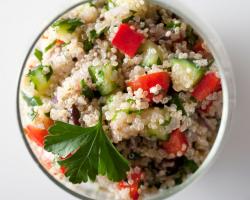 I have been pondering so many ideas for this blog lately. I wanted something I haven't previously written about and it is always helpful if the subject matter is meaningful to me as well. Mining for ideas, I cruised through the Deli Department today at the Co-op and shouted out, "Name a culinary delight that makes you think of summer!" There was a tiny moment of silence followed by three people as if on cue yelling "MINT" at the exact same time. So there you have it, an idea was born and so very meaningful it is as our mint at home is going crazy right now and my daughter Stella just last night informed me that she was the Mint Fairy. The history of mint goes back centuries; it is mentioned in the bible and is part of the stories of Greek mythology. Mint has been used as money, to whiten teeth, scent the body, to treat numerous medical ailments, to keep milk from spoiling (pre refrigeration) and of course as a culinary delight. Following the history of the plant brings us the Pilgrims as the most likely candidates to have brought the mint plant to the New World, where it has continued to thrive and grow and even become invasive in some areas. But today we speak of mint as the perfect cool and refreshing complement to hot summer days, and I will share some of my favorite ideas and recipes so that when someone asks you to name something that makes you think of summer, your first reaction will be to yell "MINT!" For starters, mint is excellent added to water, which as you know we should all be drinking a lot of, so throw in a sprig and freshen up your H2O. I always throw a handful of minced mint into my fruit salads; it is exactly what is needed to bring the flavors of 4-8 different fruits together. For an icy refreshing cooler of sorts, that is absolutely one of Stella's favorite summertime treats, get out your blender and blend together ice, a handful of mint, some lime juice and agave or sweetener of your choice and get ready to have your hot sweaty socks knocked off! For a grown up version of this, I highly recommend adding some rum to the blender and see what that does for you! Mint is great added to whipped cream, especially to top chocolate desserts, and need I even mention its usefulness as a garnish? But now for few recipes that will freshen up your table and add some cooling deliciousness to these hot summer days. Enjoy!
Quinoa Tabouli
This is a light and wheat free version of a classic, perfect for a potluck or a picnic as the flavors only get better as it sits.
1 1/3 cups dry quinoa, soaked and/or rinsed very well
¼ cup lemon juice
1 cup seeded, diced cucumbers
2 cups diced tomatoes
¼ cup diced green onion
1 cup finely minced parsley
½ cup or more finely minced mint
1/3 cup olive oil
½ T minced garlic
Sea salt to taste
If you have time, soak the quinoa for at least 15 minutes and up to an hour to remove saponins, and then rinse 2-3 times through a fine mesh sieve. If you do not have time to soak your quinoa, make sure to rinse it well.
Add the quinoa to 1 ¾ cup of water (I like to cook my quinoa in less water for a longer period of time because I find that it turns out fluffier that way, but feel free to cook your quinoa in whatever manner makes you the most comfortable) bring to a simmer and then cook on the lowest heat for 30 minutes covered, when done, leave covered for an additional 5 minutes and then fluff with a fork. Cool the quinoa in the refrigerator, when cool add all remaining ingredients and season to taste.
---
Beets with Mint
I would never imagine that beets and mint would be such great friends in a salad, but they are! The lightness of the mint pairs well with the heavy earthiness that beets bring to the table.
5 lbs beets, whole
1/4 cup olive oil
½ T minced garlic
¼ cup apple cider vinegar
¼ cup minced mint
Sea salt to taste
Boil whole beets until soft, cool under cold running water and peel. The skins should come right off. Wedge or dice beets, whichever you prefer. In a blender add garlic, apple cider vinegar, salt and half the mint, blend well. Slowly add olive oil to emulsify the dressing.
Pour dressing over the beets, add the remaining mint and season to taste.
---
Cucumber Salad with Peanuts and Mint
Last but not least, my favorite cucumber salad EVER!
4 large cucumbers, seeded and sliced into half moons
1 red onion, sliced thin in rounds
¼ cup brown rice vinegar or whatever vinegar you have on hand
½ T rice syrup, or agave
1 ½ T mirin
1 tsp crushed red pepper
½ cup peanuts
1/8 cup minced cilantro
¼ cup minced mint
1 tsp sea salt
Mix vinegar, rice syrup, mirin, crushed red peppers, and salt and toss over cucumbers. Add onions, peanuts, cilantro and mint. Mix well and season to taste!
Michelle, Deli Manager
More Co-op News